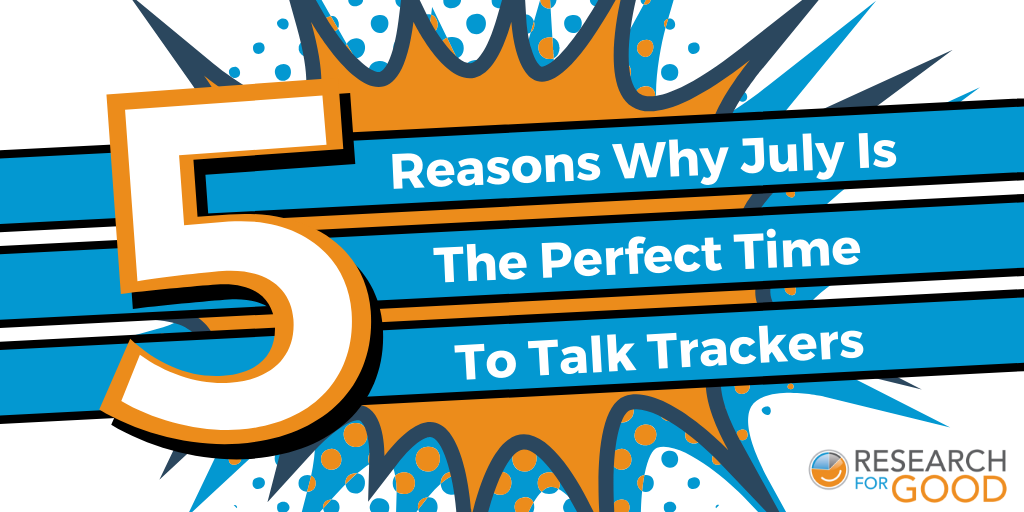 There has never been a better time to talk trackers than right-now… literally – right now! We propose July as Tracker Month – why? Easy… here are 5 Reasons July is the perfect month to start talking about Trackers with potential new (and current) sample suppliers…
Discussions now give suppliers enough time to ramp recruitment for big fall pushes and incorporate your needs into strategic planning for next year
Should you come to find out that your current sample suppliers won't be able to fill all of your needs, you can start vetting and testing new ones now, during the slower summer months, to be ready to go full throttle in Q4. Much better than scrambling to bring in a new supplier in November when the ball is already rolling and suppliers are already full-out. 
When is the last time you thoroughly vetted your suppliers for quality, service, speed, agility and understanding of their recruitment methods? Sample supply is moving quickly to continuously tap into new sources of respondents, if you haven't had a conversation with your supplier about their recruitment philosophy and quality controls, now is the time to have that discussion
Development cycles – need something funky? Need a supplier to integrate a third-party data source, develop the ability to source respondents to participate in new platforms or with delayed payouts, now is the time to start discussing any tech needs you may have, and any capability enhancements suppliers have in their dev. Queue in order to get your needs prioritized. 
Future-proof your tracker. Sampling is evolving, people are evolving. WHere people are willing to engage with surveys and research is changing. Attention is the hottest commodity on the internet. Is your tracker keeping up? If you're struggling with declining response rates, a shortage of sample to hit volumes or difficult quotas, there is no better time than now to start considering:
How do my sample supplier and I partner to ensure we're capturing attention?

Can I make the research experience better for the respondent?

Do I have reasonable expectations of my participants and are they being compensated adequately?

Am I prepared for the evolution of devicy types partiicpating in research? People's attention is moving beyond mobile, have you considered how voice will play into your sampling strategy next year? Video? Gaming consoles? 

Is your sample supplier working from a technology platform that will allow them to evolve with the population such that they can continue to capture attention wherever that may be?
Let's Get Tracking!
Need us to jump in on an existing tracker or want us to tell you more about RFG? Say Hi to one of our team and we will take it from there.